Aluminum Stitch Holders
by Knitter's Pride
Manufacturer #:
IIA-8134
Large 6.5'' (16.5cm)- Light Blue, Medium 4.5'' (11.5cm)- Pink, Small 3.25'' (8.3cm)- Gold. Allows work to be knit off onto a lockable stitch holder. When stitches needed again, they are simply knit back onto needles. Pack includes 1 of each size.
$3.75
Knits for Boys
by Stackpole Books
***Autographed Copy*** Boys love to be knitted for, too! With the 27 designs in this book, you will have fun creating stylish knits that the boys in your life will be excited to wear.
$21.95
Ashford Weaving Accessories
by Ashford
Manufacturer #s:
HH85, HH65
High quality weaving accessories made by Ashford Handicrafts designed for use with Ashford looms.
$26.00
Star Wars - Knitting the Galaxy by Tanis Gray
by Simon & Schuster
Manufacturer #:
978-1-68383-987-3
Arriving in January 2021!!! Star Wars Knitting is the ultimate guide to creating stunning projects inspired by Luke Skywalker, Darth Vader, Rey, and a whole host of droids, ships, and aliens from a galaxy far, far away.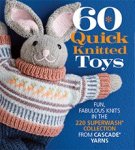 60 Quick Knit Toys
by Cascade Yarns
Manufacturer #:
BK60Toys
60 Quick Knitted Toys is full of fanciful, and always quick toy designs. We are certain that every project will capture your heart!
Ashford Corriedale Fibre Packs 100gm
by Ashford
Manufacturer #s:
LCSL100, CSPAU, ...
Corriedale wool has a defined, even crimp and is smooth and easy to spin or felt. You can spin a fine to medium woollen, worsted or semi-worsted yarn.
$11.00