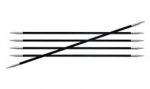 Karbonz DPN
by Knitter's Pride
Manufacturer #s:
IIK/6-00000, IIK/6-0000, ...
A revolutionary product!! New-age needles made from High-Tech carbon fiber with tips in electroplated brass! Combination of two versatile materials, light bodied carbon fiber & sharp brass tips, is guaranteed to provide an unparalleled knitting experience
$16.00 - $23.00
Custom Socks by Kate Atherly
by Interweave
In Custom Socks, Kate Atherley sets out to teach
"knitters"
of all levels the skills and tools they need to understand sock fit, and to knit a pair of socks that fit properly.
$27.99
Karbonz Sock Set
by Knitter's Pride
Manufacturer #:
IISET-1104
These needles are constructed of light bodied carbon fiber with smooth metal tips. Five needles of EACH in the following six sizes: US 0 (2.00mm)-US 3 (3.25mm) in a zippered fabric & vinyl case.
$91.50
Dreamz Deluxe IC Set (US4-11)
by Knitter's Pride
Manufacturer #:
IISET-2601
Set of 9 pairs of polished wood interchangeable needles in sizes US 4, 5, 6, 7, 8, 9, 10, 10.5, 11. Includes 4 cords: one each of 24 and 40, and two cords of 32. One set of ID tags, 8 end caps, 5 cord keys and one cord case.
$105.00
Karbonz IC Sets
by Knitter's Pride
Manufacturer #s:
IISET-1103, IISET-1101, ...
Karbonz carbon fiber needles with metal tips have become one of the knitting community's favorite needle lines since they were introduced.
$82.00
Metal "J" Style Cable Needle
by Knitter's Pride
Manufacturer #:
IIA-8453
Useful 3.0mm metal tool to securely hold stitches when cording Smooth tapered tips slips on stitches easily and holds them in place while cabling
$2.50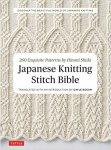 Japanese Knitting Stitch Bible
by West Broadway/Soho Publishing
In the Japanese Knitting Stitch Bible knitting guru Hitomi Shida shares some of her favorite needlework patterns.
$16.95
Wood Ball Winder
by Knitter's Pride
UPC:
800362
Manufacturer #s:
IIA-8372, IIA-8362
Beautifully handcrafted ball winder made with laminated birch wood