Row Counter Clicky
by Knitters Pride
Manufacturer #:
8149
Allows you to count row, stitch and pattern counts. Can be worn around the neck. Click to increase the row count. Can be easily reverted back to zero.
Dreamz Crochet Hooks
by Knitters Pride
Manufacturer #s:
IIDC/E, IIDC/F, ...
Dreamz crochet hooks are designed by people who know and understand the art of crochet. Hand crafted by skilled artisans. All hooks have grooves that prevent stitch slippage. Available in a palette of beautiful colors – easy to identify and organize.
$7.25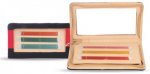 Zing 6" DPN Set
by Knitters Pride
Manufacturer #:
IISET-1303
Made of superior grade metal with the lightness of aluminum! This set includes needle sizes US 0, 1, 1.5, 2, 2.5, and 3 all packaged in a stylish red and blue striped needle case,
$53.00
Zing Deluxe IC Set
by Knitters Pride
Manufacturer #:
IISET-1301
Includes 9 sets of 5" Interchangeable tips in sizes US 4 (3.5mm) - US 11 (8.0mm) in a durable yet lightweight metal along with 4 cords and accessories packaged in a zippered case.
$85.00
Dreamz 6" DPN Set
by Knitter's Pride
Manufacturer #:
IISET-2605
Conveniently packaged set of most popular sized small needles in 6" length with a polished wood surface
$49.99